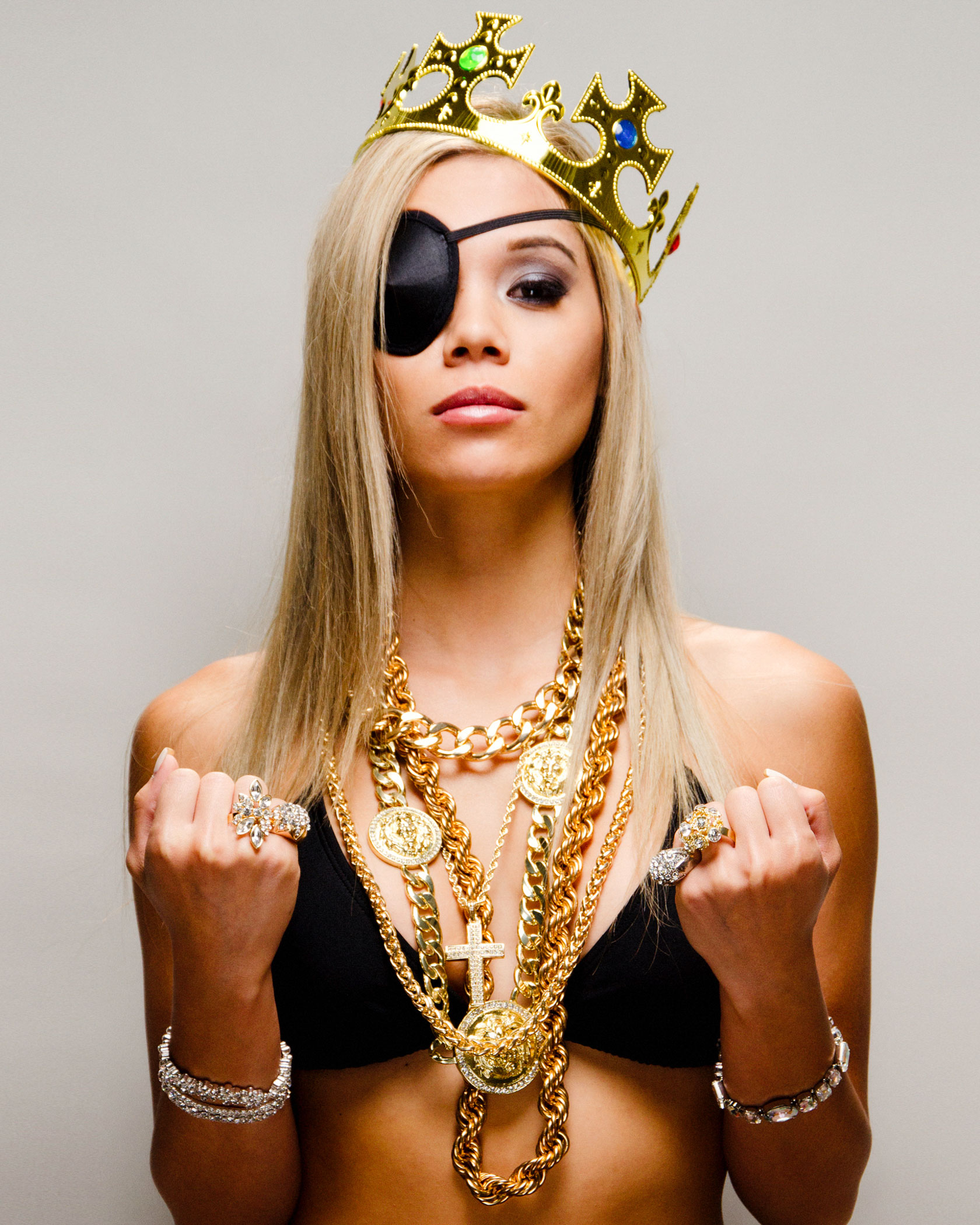 I attempted to recreate the most notable Hip-Hop personalities' looks with their signature accessories. One of the first pieces I bought was the MF Doom gladiator mask off of eBay. I scooped it up right away when I saw it online. Once I found Malissa, I went everywhere, purchasing stuff from eBay, Amazon, Party City, the indoor mall, and anywhere else. Mars Blackmon is the only non-rapper in the set, but I included him as I thought Spike Lee's character had a prominent role in Hip-Hop culture. All of the personalities were shot in one day, in one long shoot to keep all the photos consistent. We shot over 30 looks. "Hip-Hop Heads Project" was published as a book and we had a gallery for it alongside our "Greatest Hits Album" Art Show. I matched lyrics of each artist explaining their accessories and details of the rappers' origins.
From Adidas shell toes to shutter shades, the Hip-Hop attitude is about being bold, standing out from the crowd. The Master of Ceremonies, the MC, especially made himself known both in sound and in sight.

For some MCs, their style wasn't a trend, but their trademark. LL Cool J always sported his Kangol Bermuda Casual bucket hat, whenever, wherever. The style of hat had become so synonymous with LL that Kool Moe Dee used one on the cover of his diss single, "How Ya Like Me Now," with the wheels of a jeep running over the iconic hat. Run-D.M.C. rapped about their favorite sneakers in "My Adidas." The members were never seen without a pair on which led to a sponsorship from the brand with the three stripes itself.

Accessories were also cultural, being part of the dress code, like Eazy-E's black snapback hat and Loc sunglasses which was representative of South Central Los Angeles gangsters at the time. For other acts, items were a mask or a costume. A black haired rubber wig would transform rapper Kool Keith into his "Black Elvis" character. Glasses with an attached fake nose would turn Gregory Jacobs into the loveably weird Shock G a.k.a. "Humpty Hump" of Digital Underground. MF Doom (Metal Face Doom) is virtually unrecognized without his signature Gladiator mask.

Pieces also served a practical purpose such as Slick Rick's eyepatch covering his blind right eye. Nelly's Band-Aid was both practical and symbolic, starting off as a bandage for a basketball injury. After the wound healed, Nelly wore it in honor of fellow St. Lunatic member, City Spud, who was serving a prison sentence. Young Jeezy's angry snowman t-shirt represented being a dope dealer on the streets. There was a raise of concern when kids started to wear copies of Jeezy's snowman t-shirt to school, known for its dangerous drug connotation. 50 Cent's bulletproof vest was emblematic of him being struck by nine bullets in a shooting and surviving.

Whether for style, mask, practicality, or symbolism, in SICK STAR's "Hip-Hop Heads" project, we pay homage to some of Hip-Hop's greatest legends and personalities by recreating looks with their iconic accessories.

"Hip-Hop Heads Project" featuring Malissa Redona, photography by imagenix. Makeup by Krystyl Hernandez. Assistant: Bri Evert. Special Thanks to Ruthless Truth.